So far in this series, we have looked at Mt Lawley and Swan Hills, two key marginal seats in the conventional path to a WA Labor election victory or a successful Liberal defence. The choice of these two seats comes from Antony Green's analysis of the 2015 redistribution of seats by the WA Boundaries Commission. In theory, Green's pendulum tells us the easiest seats for Labor to win, and thus the seats the Liberals need to defend.
Remembering that two of the seats currently "held" by the government, according to Green's analysis, are in fact held by Labor. Both Collie-Preston and West Swan became notional Liberal seats following the 2015 redistribution.
With that in mind, the non-held seats Labor needs to pick up, according to Green, in order of ascending margin, are:
Belmont - 1.0%
Forrestfield - 2.2%
Perth - 2.8 %
Swan Hills - 3.7%
Morley - 4.7%
Balcatta - 7.1%
Mount Lawley - 8.9%
Bicton - 10%
Kalamunda - 10.3%
Joondalup - 10.4%
Southern River - 10.9%
Wanneroo - 11%
Burns Beach - 11.3%
… and so on.
Labor needs to pick up eight seats to win government. If we take these seats in sequence, the eighth and deciding seat is Bicton.
However, swings are rarely uniform, and are made up the state-wide trends and local conditions. While the Liberals have a large margin in Southern River (10.9 per cent), there are many local reasons why Labor could out-perform its state-wide result in this seat.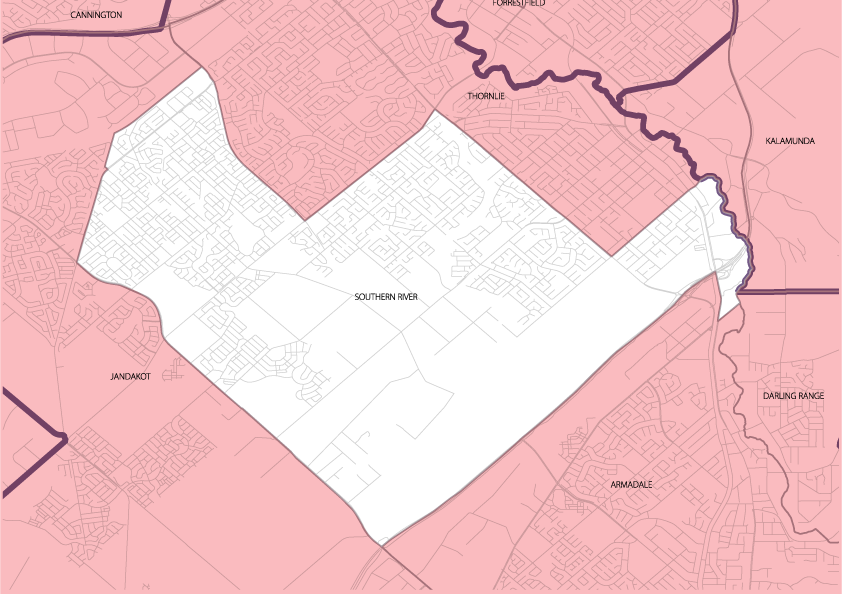 First, the 2015 redistribution moved the seat east, losing some good Liberal booths in Canning Vale, and gaining some Labor booths in Gosnells. This shifted the margin from a whopping 17 per cent down to 10.9 per cent, giving Labor a chance.
The second reason is the massive growth in Perth's southern suburbs. This has produced thousands of extra voters in the seat. For example, the Bletchley Park Primary booth had 1,500 votes at the 2013 state election, and over 3,000 at the 2016 Federal election. Take a drive through the suburbs of Southern River, north of Ranford Road, and there is an ocean of new houses, with more people moving in every day.
The third reason is Labor's incredible local result in the 2016 Federal election. Matt Keogh produced the largest swing in Australia, with 13 per cent, to win the new seat of Burt. A simple transfer of the Federal result onto Southern River produces a 56 per cent Labor vote after preferences, easily enough to win.
Remember, not only does Southern River overlap with the Federal seat of Burt, it also overlapped with Canning, when Matt Keogh fought a by-election following the death of sitting Liberal Don Randall. Burt voters have been campaigned at relentlessly over the last two years. They are highly engaged, aware of the issues, and, after being exposed to the messages and tactics of both sides over multiple elections, have moved Labor's way.
The fourth reason is demographics. The rapid population growth experienced has been in one kind of voter - classic mortgage belt. These voters tend to have lots of debt, are worried about employment, and live in suburbs suffering from growing pains. Local services are under-developed, transport times to the rest of Perth are long, and local schools are over-crowded. Flat housing prices will be weighing heavily on their minds. Labor's Federal election campaign tapped into the needs of these voters very well, and voters responded in droves.
Another major reason to be bullish about Labor's prospects in Southern River is their candidate, local high school teacher Terry Healy. Terry is a person of natural charisma, loves being involved in the local community and has a natural connection to voters. His campaign is being overseen by Sue Ellery, Labor's Legislative Council leader and Shadow Minister for Education. Sue is widely known for having one of the keenest political minds in WA politics. Combined, Terry and Sue provide the promise of a standout local campaign.
However, sitting Liberal Peter Abetz has delivered before and should not be underestimated. He was born in Germany, and his family migrated to Tasmania when he was young. His younger brother is Senator Eric Abetz, the conservative Liberal frontbencher from Tasmania. He is a former small businessman and pastor. He first won the seat in 2008, with a 7 per cent swing, winning the safe Labor seat seat by just 700 votes. He followed this up in 2013 with an incredible 15 per cent swing.
His big swings have been attributed to an unorthodox approach to constituency work. As a pastor, he is quite used to visiting his flock, inviting himself into people's homes for a cup of tea. As the local member, he has continued this model, going to voters' homes for a cuppa, where another MP might only send a letter. This has given him broad appeal outside of his own conservative Christian ideology. Abetz is not afraid to wear his beliefs on his sleeve, and once suffered an informal National Party walkout while espousing his anti-homosexual beliefs on the floor of Parliament.
The demographics of Southern River contrast with its large Liberal margin. Compared to other Western Australian seat, Southern River has:
More families
More young children
More mortgaged homes
More part time and blue collar workers
More people from non-English speaking backgrounds
More migrants
Average number of university graduates
Above average income
Above average unemployment

During the mining boom, the residents of Southern River were doing well. With secure, high paying jobs plentiful, people built new houses and loaded themselves with debt. However, the turn in the state's fortunes have put this security at risk. Jobs are harder to find and retain, dropping property prices means mortgages are falling into negative equity, and local services haven't kept up with demand.
There is a diverse cultural background in Southern River, with a large Indian and Chinese population in the western part of the seat. Some of Perth's larger non-Christian religious organisations are based in Southern River, such as the Perth Hindu temple, and the Sikh temple.
The mortgage belt is especially dominant in the southern part of the seat, just north of Ranford Road. The east of the seat, around Gosnells and Huntingdale, is a more traditionally Labor area, with lower house prices, more renters, more apartments, and more people financially struggling. Labor MP Chris Tallentire previously represented this area, and the working class roots are strong.
Not long ago, many pundits would have thought Peter Abetz would have Southern River wrapped up. A 10.9 per cent margin, with his record of superior local campaigning, would normally be enough to win the seat. However, the fundamentals are all going Labor's way. The combination of large population growth, the seat demographics, a very high Federal Labor vote, and a good Labor candidate will make this Abetz's toughest test.
Southern River will be a seat to watch on election night. A big swing in the Bletchley Park booth on the night will signal deep problems for the Liberals in Southern River and potentially across all Perth's mortgage belt. The Liberals will rightly be asking themselves, If Southern River can fall, with its formidable local member and notionally safe margin, who else is vulnerable? Decisions on which seats to defend and which to leave to their own fate will be complicated.
Some political observers question Labor's ability to win in March, believing the established electorates of Mount Lawley and Bicton may not produce the swings necessary to deliver Labor the seventh and eighth seats it needs to form government. Such analysis is an understandable interpretation of the pendulum, but it ignores the significant population growth and demographic shifts that have occurred in the four years since the last election.
During their time in office, the Liberals and Nationals have enjoyed massive political benefits from the mining boom, and the prosperity, optimism and confidence it generated. With the boom all but over, the employment and financial insecurity left behind in Perth's suburbs could make the existing electoral pendulum redundant, and potentially provide multiple paths to victory for Mark McGowan and his Labor team.
For more political analysis and government relations advice, please contact Campaign Capital.
CGM Communications influences and inspires action through connection and the sharing of stories. We support strategic communication with the community, government and media.