Swan Hills' long-standing status as the state's bellwether electorate is under threat, with WA Labor candidate Jessica Shaw likely to take the seat, irrespective of who wins the state election on 11 March.
Swan Hills has been held by the party of government since its creation in 1989. From Gavan Troy in the Dowding Government, to June van de Klashorst in the Court era, Jaye Radisich for Geoff Gallop, and now Frank Alban, the party that has won Swan Hills has always won government. With its mixture of agriculture, mortgage belt and Perth Hills lifestylers, it has been a good barometer of Western Australia's political mood.
However, the recent redistribution might have changed that… a bit.
The new Swan Hills has lost the Swan Valley, Perth's rich agricultural region north of Midland. Instead it has consolidated into the fast growing suburbs of Ellenbrook, with a long tail of the Perth Hills stretching through Gidgegannup and up around to the back of Mundaring. The northern end of the seat stretches as far as Bullsbrook and RAAF Pearce, and east as far as Wooroloo.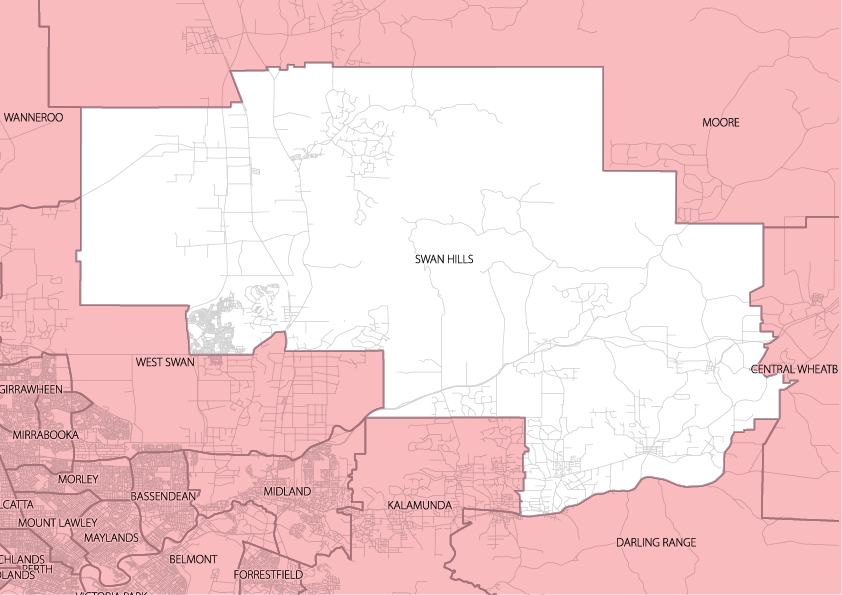 The redistribution has changed the margin to 3.7 per cent, one of the most marginal seats in the government and an obvious target seat for Labor. This margin also reflects a strong showing by Labor in the 2013 election, where former member Jaye Radisich's younger brother Ian outperformed Labor's state campaign to record a primary vote of more than 36 per cent.
Swan Hills' new demographic mix makes it one-part blue ribbon Liberal, much like Kalamunda, and two-parts mortgage belt, like Wanneroo or Southern River. Compared to other Western Australian seats, Swan Hills has:
More young families
More mortgages
Above average income
Lower unemployment
Fewer university degrees and more trade qualifications
Fewer people with foreign ancestry


Ellenbrook is dominated by young families with mortgages, while the Hills have higher incomes and a more mature age profile.
The key issue in Ellenbrook for the last two elections has been transport. The fast-growing suburb has one of the longest commute times in the Perth region, and the residents are keen to be brought closer to the jobs, services and opportunities in the rest of the city. The Liberal Party promised a rail connection in the 2008 election, only to repeatedly let residents down as planning timelines disappeared into the distant future. Labor capitalised on this in 2013 with the METRONET rail plan, forcing the Liberals to make another promise for a rapid bus service. Despite being touted as one the Liberals' "fully costed, fully funded" election promises, this project was shelved soon after the election, only for a watered down version to be resurrected three years later.
Another issue looming in Ellenbrook is economic security. With the end of the mining boom, jobs are harder to keep and harder to come by. Ellenbrook, like much of Perth, is in a soft property market, and mortgages are sinking into negative equity. As a growth suburb fuelled by jobs in the mining industry, Ellenbrook is feeling the pinch.
The third issue for Ellenbrook is services. For many years, Ellenbrook has been one of the fastest growing areas in Australia, competing with places like Baldivis, Butler and south-east Queensland. This has led to a shortage of services. Schools are overcrowded, infrastructure is stretched and there are few local entertainment options.
Up the hill, in Gidgegannup, Mt Helena and Chidlow, the electorate is a bit older and more established. Families of many generations call these areas 'home'. Residents are a little less exposed to the housing market, with fewer people as heavily mortgaged and exposed to negative equity. Rising unemployment is felt by the younger generation, but employment in the area was less dependent on the mining industry.
In the recent federal election, the booths in Ellenbrook swung heavily to Labor, like much of suburban Perth, while the Hills booths swung more modestly. Gidgegannup defied the trend completely, swinging towards the Turnbull Government.
Frank Alban, the sitting member, won the seat in 2008. Frank was born in Italy, grew up in Pemberton, and has lived in New South Wales and Victoria. With a background in agriculture and real estate, he was naturally at home in the Swan Valley Region. However, the redistribution has moved the seat north into suburban Ellenbrook, an area he is much less suited to.
Alban has remained on the government backbench throughout the Barnett Government, and has not been talked about publicly as a likely Minister. With the Liberals ascendant at the 2013 election, on the back of negative perceptions of the federal Labor Government, Alban failed to capitalise, and a number of his booths recorded swings to Labor.
Jessica Shaw, the Labor challenger, is a former executive and consultant in the energy sector. She has lived in the Perth Hills most of her life, and currently resides in Ellenbrook. With a Masters degree in law from Cambridge, she is widely touted to have a big future, if she can win in March.
Jessica has renewed Labor's call for a rail service to Ellenbrook, and is supporting Mark McGowan's Plan for Jobs, two initiatives that are finding a warm welcome in the mortgage belt. She is a key mover in Labor's plan for tourism in the Perth Hills, which aims to increase business and employment opportunities. Her campaign has been holding successful local forums on topics including the Ellenbrook rail line and the planned privatisation of Western Power by the Barnett Government.
Labor currently holds 22 seats in the Legislative Assembly and needs a net gain of eight seats to form government. Of the eight most marginal government electorates, Swan Hills is the fourth most marginal. Published polling has Labor ahead in Swan Hills and points to a statewide swing that would likely see this seat fall early on election night.
With Labor having out-performed in Swan Hills at the 2013 election, it is likely there are fewer "low hanging" votes this time around. For this reason, the Liberals won't give up on Swan Hills, but they are likely to focus their energies on defending seats higher up the pendulum, and those with more favourable demographics, such as Mount Lawley, Bicton and Perth.
Unless the political atmospherics change considerably between now and election day, Jessica Shaw is likely to become the new Member for Swan Hills. However, whether she spends her first term as an opposition MP or a government backbencher will depend on Labor's performance elsewhere.
For further political analysis or government relations advice, please contact Campaign Capital.
CGM Communications influences and inspires action through connection and the sharing of stories. We support strategic communication with the community, government and media.