In the lead up to March's state election, Campaign Capital will profile the electorates and policies that the election will be fought over as a part of our new blog series.
This first blog will examine the inner city electorate of Mount Lawley, a seat which is currently held by Liberal Michael Sutherland, but is being targeted by WA Labor as a priority seat.
Put simply, if Labor wins Mount Lawley, Mark McGowan is almost certain to become Premier. Labor currently holds 22 seats in the 59 seat Legislative Assembly. For a change of government to occur, Labor needs a net gain of eight seats.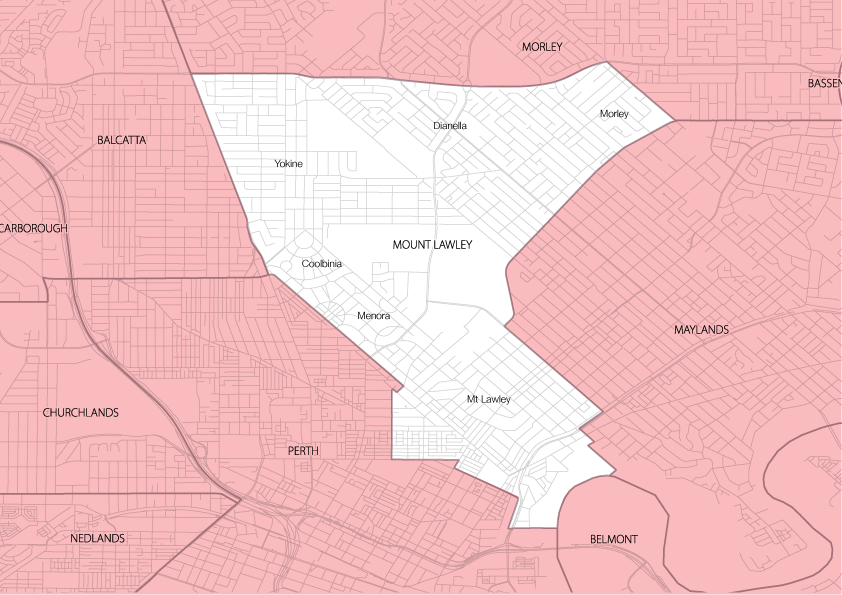 With a margin of 8.9 per cent, Mount Lawley is the seventh most marginal government seat. Published polling has Labor neck and neck with the Liberals in this contest. However, the polling also indicates Mount Lawley, as well as the neighbouring inner city marginal seat of Perth, are swinging less than many outer suburban electorates. Understanding the different dynamics at play in the inner city will likely make the difference on 11 March.
Mount Lawley is a diverse seat, stretching from fashionable Beaufort Street, through the wealthy suburbs of Mount Lawley, Menora and Coolbinia, to the medium density apartments of Yokine and the middle Australia of Dianella and Morley.
Compared to the rest of WA, Mount Lawley has:
Average income, but increasingly high in the southern part of the seat
More university graduates
More Green voters
More home owners, but fewer mortgages
Fewer families with children
Fewer blue collar workers

Michael Sutherland first won the seat in 2008, defeating Labor's Karen Brown, a former journalist. Sutherland was a lawyer and had served for a number of years as a City of Perth councillor, service which had culminated in his election as Deputy Lord Mayor. His election as Speaker of the Legislative Assembly during the Barnett Government's second term was seen as a good fit with his experience on Council.
Governments are generally reluctant to confer higher duties on marginal seat holders, believing that their time is best spent in their electorate, campaigning continuously to hold their seat. It is possible that Sutherland's appointment as speaker will give him greater gravitas within his electorate, but it is also possible that it is providing a distraction to his re-election efforts.
Sutherland benefits from a very high profile within Mount Lawley. He has taken advantage of the City of Stirling's relaxed approach to political advertising to have his signs affixed to many local bus stops for much of the last eight years. It is likely that many long-term residents have met him.
However, parts of the electorate have a more than 50 per cent turnover of residents every five years, so Sutherland could be vulnerable if he has shown any sign of complacency during his second term.
His Labor challenger, Simon Millman, is an accomplished lawyer, with a young family, and is well suited to the demographics of the seat.
A graduate of the University of Western Australia, Millman most recently worked for law firm Slater & Gordon, specialising in workers' compensation, personal injury, discrimination law and asbestos-related diseases. He also volunteered at a number of local community legal centres.
Millman is working hard to build a profile within the local area. He and his team of red-shirted campaign supporters can be seen out every weekend, knocking on doors and having conversations about local issues. He has also been active in the local media, tackling issues such as Liberal cuts to community child care and the possible closure of Mount Lawley train station.
Like any challenger, Millman clearly understands the need to build his profile within the electorate. However, if Labor is to wrest Mount Lawley from Liberal hands in March, it is clear a nuanced approach to inner city issues will be important.
At the recent federal election, outer-suburban Perth swung to Labor in a big way, with demographics that responded to the Shorten messages on jobs and health. However, the inner suburbs of Perth remained largely unmoved, with an increasingly well-educated and affluent electorate attracted to perceptions of a more progressive Liberal Party, under new leader Malcom Turnbull.
State Government projects such as Elizabeth Quay, the new sports stadium and the Perth City Link project are increasingly seen as questionable priorities in the outer suburbs, but are popular with many in the inner city, who don't have to travel very far to enjoy their benefits.
However, having been in office for more than eight years, the Liberals are on the defensive over large parts of their record. This includes a blowout in state debt, unpopular privatisations and botched reforms, including the failed attempt at local government amalgamations – an effort that was fought successfully by inner city residents. Broken promises on public transport have also hurt, including the 2013 election commitment to build MAX light rail up Fitzgerald Street. This project would have benefited Mount Lawley voters directly.
The end of the mining boom has been slower to reach inner city Perth than it has many people living in Perth's suburbs and regional communities. However, a growing number of inner city residents are now feeling the income and job insecurity that other West Australians have been feeling for a while.
Political pundits like to identify bellwether seats – electorates in which the result can point to a broader trend or signal a tipping point at an election. Given the significant swings to Labor experienced in outer metropolitan Perth at the federal election, it is possible that WA Labor has paths to victory at the state election that do not include winning Mount Lawley. However, given some of the dynamics at play in the inner city, the demographic trends within Mount Lawley and the electorate's status as the seventh most marginal of the eight seats Labor needs to pick up, it is probable that a Labor victory in Mount Lawley on 11 March will be accompanied by a change of government.
For further political analysis or government relations advice, please contact Campaign Capital.
CGM Communications influences and inspires action through connection and the sharing of stories. We support strategic communication with the community, government and media.