CGM Voices by author: Daniel Smith
Blogs by Author: Daniel Smith. [Show All]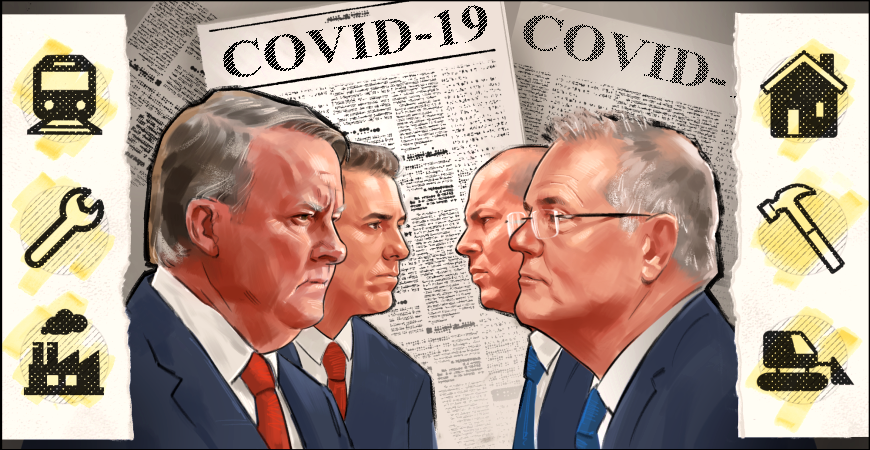 It takes a spectacularly flawed government to lose an election in the COVID era.
It's a feat that only Donald Trump has managed to pull off.
For the most part, incumbent governments across the democratic world have been returned with increased majorities, taking advantage of the platform and opportunities to demonstrate leadership that the pandemic has provided.
Voters appear willing to give credit where it is due, but withhold harsh judgment on missteps, given COVID, itself, isn't any individual's fault.
Take, for example, the current popularity of Boris Johnson's conservative government in the United Kingdom. Despite bungling the early months of the pandemic and overseeing almost 130,000 COVID deaths, Johnson is now streets ahead in the polls. This is driven by an increasingly successful vaccine rollout, as well as the reality that the working-class support Johnson secured through Brexit never really left him.
If you apply this post-pandemic political paradigm to Australia's current federal political environment, it is hard to see the Morrison Government being defeated when it goes to the polls some time in the next 12 months.
While Australia's island geography and a lot of heavy lifting by state and territory governments have contributed to the country's strong COVID performance, the reality is that Australia is at the top of the pile in terms of its national COVID performance, both in terms of health and economic outcomes, and the Morrison Government would, quite rightly, expect to get some credit for this.
However, being in Canberra with clients for the budget this week, I didn't detect the sense of inevitability about the election outcome among either Liberal or Labor operatives that you might expect in this pandemic political paradigm.
Labor figures genuinely feel they're in with a shot. They point to the polls having had the Coalition and Labor neck and neck throughout most of the pandemic period, with the Prime Minister having had trouble converting the opportunities the pandemic has presented him into obvious electoral support.
With Mr Morrison failing to generate similar levels of support that many state and territory leaders have enjoyed during the pandemic, Labor concludes there is a drag on the Coalition vote and attributes this to non-COVID issues like bushfires and Parliamentary culture, as well as to COVID-related challenges, such as the undermining of state border closures, not taking responsibility for quarantine and the slow vaccine rollout.
Labor figures also point to the fact that the last two elections have been decided hand to hand, state by state, electorate by electorate, with a divided electorate delivering successive close results. And, when they take you through each state, seat by seat, they make a compelling case as to why the Coalition may have challenges on the ground.
And the Liberals I spoke to this week tend to agree.
The big questions coming out of budget week are whether either the budget or Anthony Albanese's budget reply will shift the dial, when the election will be and who will win.
To borrow some Howard-era phraseology, Josh Frydenberg's budget has clearly sought to scrape some barnacles off the ship of state. The question is whether the quantum of funding put into areas like aged care, childcare, mental health or women will be enough to make a lasting difference, or to convince wavering voters the government has a genuine commitment in these areas.
Anthony Albanese has clearly sought to establish another major theme to his platform, with a $10 billion housing future fund set to fund a continuous build of social housing across Australia. With a $15 billion manufacturing fund already announced, as well as a long-term commitment to extend childcare subsidies to all Australian families, Labor's agenda is taking shape, with some clear points of difference to the government.
However, modern elections are increasingly fought on the issues of health and jobs.
With the Medicare wars all but over, vaccines and quarantine will be the terrain on which the health battles are fought at this election.
On the issue of jobs, the government is pinning its hopes on private housing construction, investment tax incentives for business, infrastructure spending and personal tax cuts giving taxpayers more money to spend with local businesses.
Until the budget reply, Labor's jobs pitch focused on growing local manufacturing and sovereign capability in areas such as rail manufacturing. The continuous social housing build announced by Mr Albanese, inclusive of commitments on apprenticeships, was another significant commitment. I expect we'll see similar initiatives in renewable technology and manufacturing in the months ahead. How Labor frames any decisions it takes on tax will be critical, both in terms of how it will affect people personally, but in how it can be framed by the Liberals as impacting on the broader economy and job creation.
As to when the election will be, the building consensus is that the Prime Minister will move once the vaccine rollout has reached critical mass, perhaps at two thirds of the population, so as take advantage of the strong economic conditions and to minimise the chance of new issues taking the government off course. This makes an election this year very possible.
As to who will win, there's still a lot of water to go under the bridge. Given Australia's COVID performance, the election remains Mr Morrison's to lose. But, there are enough reasons not to rule out a surprise Labor victory.
Game on.
---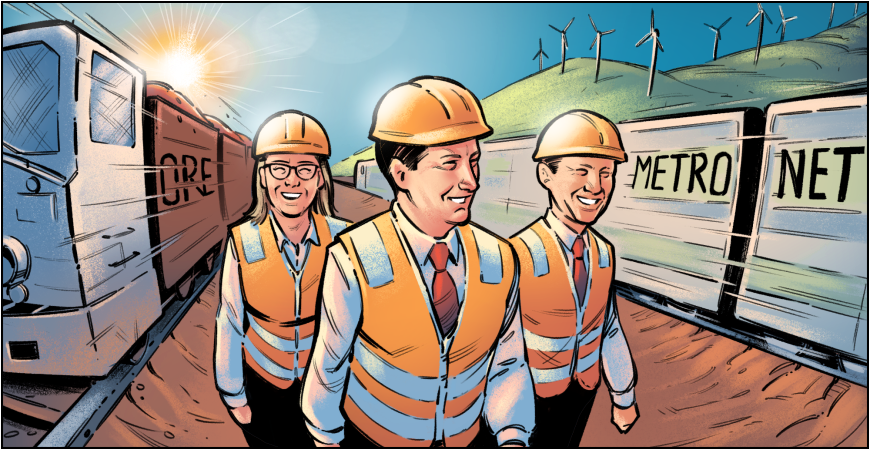 By Daniel Smith
One of the most memorable moments from this year's state election campaign for me was the reaction to Premier Mark McGowan's answer on vision.
During the leaders' debate, the Premier was asked about his vision for WA. In response, he talked about a recently announced initiative to manufacture components for iron ore rail cars in WA.
Some observers found that answer underwhelming, but in the wake of the election result, I think it's worth another, closer look.
Vision is an undefined quality in politics. To some, vision means soaring Obama-style oratory. To others, vision means big, sometimes unexpected, announcements.
In WA, the developments you hear most commonly talked about as visionary are the Fremantle Harbour, the Goldfields pipeline and the North West Shelf development. A small, but increasing, number of people also talk of the Barnett government's stadium development in this way.
What these projects have in common, in addition to being expensive and contentious in their day, is that they went on to underpin significant, long-term economic opportunities for the state.
Which brings me back to the Premier's comments on rail component manufacturing for the resources sector.
On its own, this might appear narrow to some. But, when considered alongside Rita Saffioti's achievement in securing the local manufacturing of METRONET rail cars in WA, and the enormous size of the iron ore rail car fleet that needs servicing (32,000 rail cars annually), we may be on the cusp of a whole new industry for WA.
Every focus group I've had a hand in over the past 15 years has had respondents screaming about the need for more manufacturing in WA, with those old enough lamenting the closure of the Midland rail yards in the 90s.
The current government's achievements and commitments on rail manufacturing, its progress in developing new advanced manufacturing hubs in Kwinana and the South West, as well as the announcement of big incentives for manufacturers during the election campaign, point to a very solid direction. Add recent commitments to manufacture 1,000 standalone power systems for remote communities and cash incentives to meet the expected boom in local wind turbine demand locally, and the direction is clear.
McGowan Labor has a vision. A manufacturing vision.
Of course, some will say we can't manufacture things in WA… our wages are too high. However, many believe the time is right. Modern manufacturing technology, a narrowing of the international gap in wage levels, plus the increased value being placed on sovereign capability post-COVID are levelling the playing field.
For years, WA has been manufacturing high quality, cost-competitive marine vessels for a global market. If we can do this, many within industry, government and the union movement believe we can do more.
Which is how we arrived at the announcement on local iron ore rail car component manufacturing.
In the last week of the election campaign, CGM commissioned our own poll of Perth voters to get a sense of what was driving voter behaviour.
A key finding was that more than three quarters of voters thought Mark McGowan and Labor had the best vision for WA's future, compared to only 12 per cent for the Liberals.
The Premier's previous performance on COVID clearly played its part in Labor's extraordinary electoral success.
But the punters clearly liked the version of the future Mr McGowan was selling, also.
There's no doubt in my mind Labor's direction on manufacturing is central to this appeal. And, if the Premier, aided by Ms Saffioti and his Deputy Roger Cook, in his new capacity as Minister for Jobs, can deliver on their manufacturing commitments, they will be rewarded with long-term political support from the working people in WA's suburbs and regions.
For all the projects we now consider visionary in WA, there were many sceptics in their inception, with it taking some time for consensus to settle.
I think Labor is on to something good here. So, let's make a diary note to revisit the vision conversation down the track.
---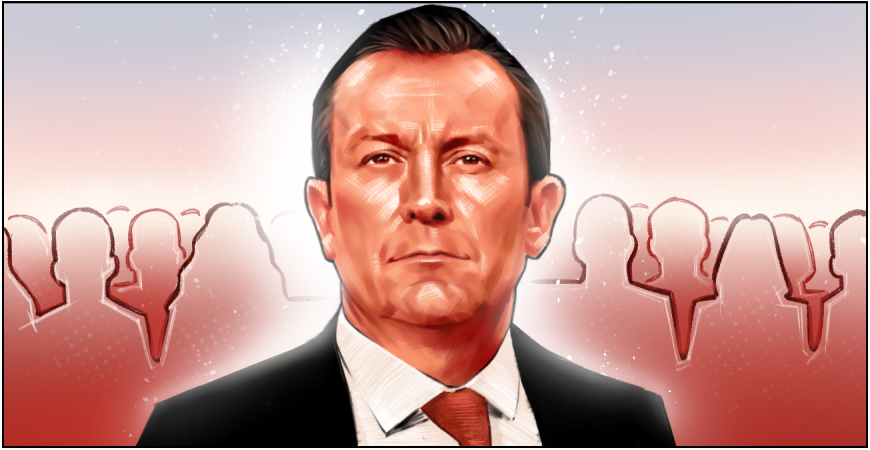 By Daniel Smith
Much of the discussion about the formation of the second McGowan Cabinet has understandably focused on the Premier and his taking of the Treasury portfolio. But there is a lot more to read into the Premier's announcement yesterday.
Here are my key takeaways, including pointers to the future:
Those predicting the Premier will give up Treasury in the short to medium term, might want to reserve their judgment. The Premier is known to have been highly involved in the budget process during Labor's first term, and at least as passionate as then-treasurer Ben Wyatt about financial discipline. Having shifted a large portion of his previous workload to Deputy Premier Roger Cook, in the form of State Development, Jobs and Trade, as well as enlisting the support of Tony Buti as Finance Minister, the Premier has created a structure that might work for the long term. Given the value he has placed on stability to date, relinquishing Treasury mid-term and claiming some other portfolios would seem out of character.
While the Premier has talked about the looming threat from other States to his GST deal with the Commonwealth as a key driver for his taking of the Treasury portfolio, it is possible the biggest challenge he will face in his first year as Treasurer is the effort by public sector unions to end the $1,000 per year wage rise cap. With a number of enterprise bargaining agreements up for negotiation over the next 12 months, unions will argue that public sector workers have done the heavy lifting in getting the state budget back on track and, with the state economy heating up, more competitive wages will be essential if the public sector is to retain and attract quality staff. Unions may find unlikely allies in industry, given the challenges many businesses had getting approvals and decisions out of government during the last boom, when public sector workers flocked to the private sector in pursuit of better wages. New Industrial Relations Minister Stephen Dawson will lead the government's negotiations.
Irrespective of what happens with the Treasury portfolio, if Australia continues to win the fight against COVID, Mr Cook is likely to hand Health to someone else in 12 months or so, after 13 years in the portfolio. Education Minister Sue Ellery has been talked about for some time as a suitable replacement, however Mr Dawson may have come into the frame now that he has picked up Mental Health with his new responsibilities. Either way, the Premier will be looking for a safe and experienced set of hands, given the size and importance of Health, leaving Mr Cook to focus on the new and important portfolios he received yesterday.
As Minister for State Development, Jobs, Trade and Science, Mr Cook has become Mr Manufacturing and will help fulfill the Premier's vision to diversify the State economy. During the election campaign, Labor announced initiatives to progress new advanced manufacturing hubs in Kwinana and the South West, and now has hundreds of millions in incentives and initiatives on the table to attract investment in local manufacturing. The announcement of an agreement to manufacture components for the maintenance of WA's 30,000 iron ore rail cars in WA, when considered alongside Rita Saffioti's achievement in manufacturing the new fleet of Metronet rail cars locally, points to the potential establishment of a major new strategic industry for WA.
Ms Saffioti and Mr Cook will jointly have responsibility for delivering Labor's Westport outer harbour vision, with Ms Saffioti leading the effort after adding Ports to her existing Transport and Planning portfolios, and Mr Cook having responsibility for promoting the landside benefits for industry in his electorate of Kwinana. With Labor now having the numbers in both houses, Westport will happen, the Beeliar Wetlands will become an A-Class Nature Reserve, and it will be almost impossible for any future government to build the previously proposed Roe 8 and Roe 9 extensions.
John Quigley's appointment as Minister for Electoral Affairs suggests change is coming. With Labor already proposing sweeping changes to political donation disclosures and having a long-term commitment to the principle of one-vote-one-value, the rules under which future elections are fought may be significantly different. Attention will focus on the Legislative Council, where a malapportionment currently exists strongly favouring regional voters. Striking a balance that ensures regional voices are not lost, given WA's size and the concentration of our population in the Perth metro area, will be a significant challenge. I expect it's a challenge Mr Quigley will lean into. Whatever the outcome, let's hope this year's election was the last election that micro-parties can game the system.
Thinking forward, the possibility of a major reshuffle and injection of fresh blood into the Cabinet prior to the next election is real. Neither political party has won a third four-year term in Western Australia, and despite the obvious electoral advantage it enjoys following this year's state election, Labor will not want to appear tired heading into 2025. The left's Alanna Clohesy was considered unlucky to miss out on a Cabinet spot this time, and David Michael appears to have been anointed as the next cab off the rank from the right, with his elevation to Cabinet Secretary. However, there are now 10 additional names to keep an eye on, following the Premier's appointment of Parliamentary Secretaries. These are Samantha Rowe, Darren West, Terry Healy, Simon Millman, Jessica Shaw, Jessica Stojkovski, Kyle McGinn, Sabine Winton, Yaz Mubarakai and Matthew Swinbourne. With only four of the existing 17 Cabinet positions currently filled by women, expect the Premier to use future promotions to work towards a gender balance that reflects the 50 per cent female Parliamentary representation achieved by Labor at this year's election.
There is much more I could write about the personalities and policies that will confront the challenges and opportunities of the next four years, but these are the key takeouts as I see them, today.
As always, CGM is here to assist our clients understand key government drivers and identify opportunities for collaboration in the public interest.
---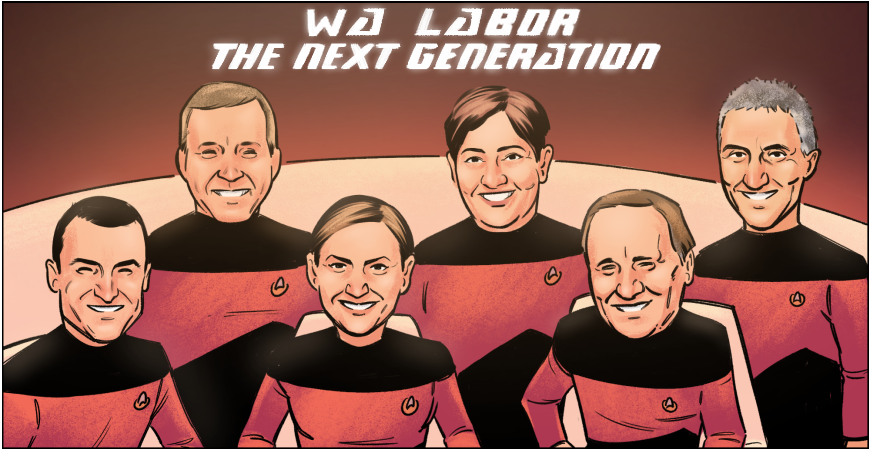 On the sporting field, depth is the key to sustained success.
As AFL seasons wear on, the teams that can cover injuries with quality players often rise to the top. It's no different in cricket, as we saw with the Indian team in the recently completed test series against Australia.
Second term governments often lose their way, with a key contributing factor being the people they bring in to replace retiring members not having the skills or, perhaps more importantly, the experience to deliver to the same standard.
Which is what make the six new faces being talked about as new members of the second term McGowan Cabinet so noteworthy. Those of us who have had experience engaging with them feel each would be ready to hit the ground running, if they get the opportunity.
For background, the Premier has to find three new Ministers to replace the retiring Ben Wyatt, Fran Logan and Mick Murray. If, as expected, the retiring speaker Peter Watson is replaced from within the ranks of the first term Ministry, the Premier has to find a fourth new Minister. With Morley MLA Amber-Jade Sanderson considered a certainty to receive a Ministry, her current position of Cabinet Secretary will also need to be filled.
So, there are five positions up for grabs, and six names talked about. This includes Ms Sanderson, as well as Don Punch , Reece Whitby, John Carey, Alanna Clohesy and Tony Buti.
We've put together this document to introduce you to WA Labor's next generation. We haven't attempted to predict which portfolios they may receive, but we're expecting to see a significant reshuffle of portfolios, given the number of positions set to open up at the senior end.
As always, CGM is here to assist our clients understand the policies and personalities that will drive government during the new term, as well as identifying opportunities for collaboration in the public interest.
We hope you find this document useful.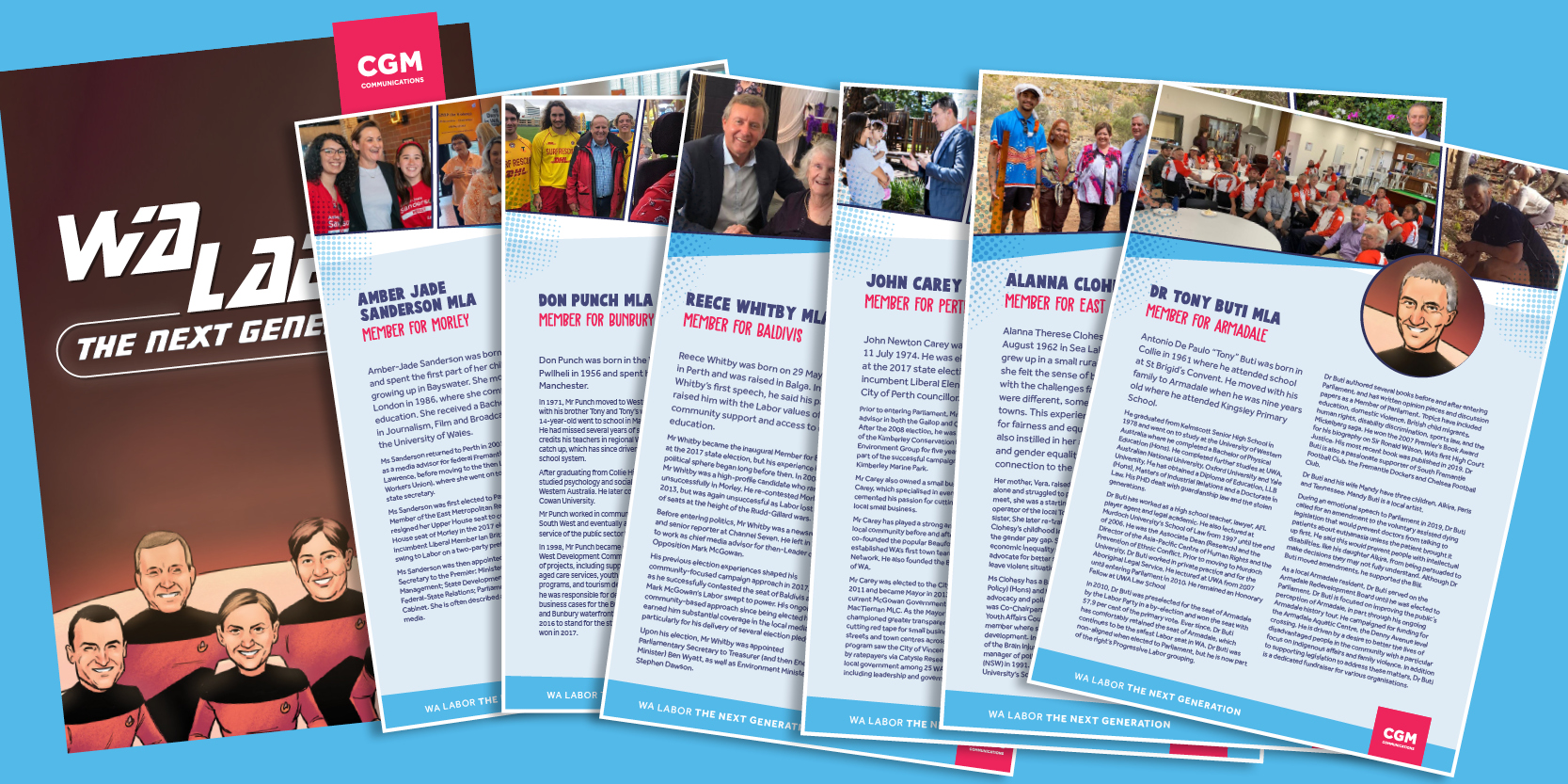 ---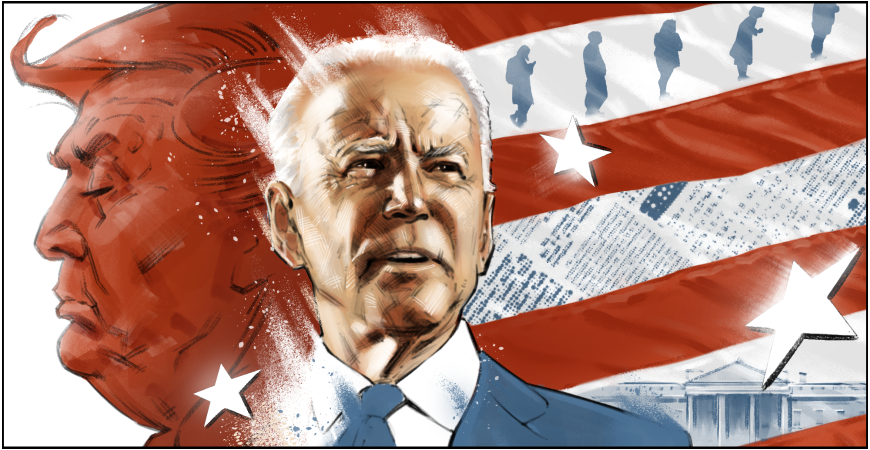 By Daniel Smith

The greatest political show on earth will reach its climax this Wednesday morning, Perth time, as the United States reels from its third wave of COVID-19 infections. Will Donald Trump pull off another come-from-behind win, or will Democrat Joe Biden make Trump the first Republican president since the 1800s to surrender the presidency after only four years of his party occupying the White House?
To help you make sense of what promises to be the most turbulent election count in recent US history, here are the vital questions to consider as the results roll in.
Are the polls wrong again?
Since 2016, most serious pollsters have gone to a lot of effort to ensure the white, working-class voters they missed in 2016 state-based polls are fully represented in their samples.
These corrections delivered a high degree of polling accuracy at the 2018 midterms. Will this accuracy be reflected in the presidential election? We won't know until the votes are counted.
Will Biden's advantage with suburban women hold?
When the Democrats swept to a House majority at the 2018 midterm elections, it was on the back of white, mainly female suburban voters who voted for Trump in 2016 but were repelled by the President's personal style and strongly opposed his efforts to repeal 'Obamacare'. But the question is: are they also voting for Biden? Current polling suggests they are and that many COVID-scared seniors are joining them.
Will African Americans come back to the polls?
Will the death of George Floyd, the President's divisive rhetoric and the energy of the Black Lives Matter movement generate a surge in turnout among African Americans, bringing voters who stayed home at the post-Obama 2016 election back to the polls? While polling suggests African American voters aren't supporting Biden at the same level as they supported Clinton, early voting patterns point to a higher turnout and a likely net benefit to the Democrats.
Can Trump increase white working-class turnout?
The core objective of Trump's re-election strategy appears to be to increase the historically low turnout among his white, non-college educated, culturally conservative base, who represent the largest voting demographic in the US. But, can he do it? If he does, he may surprise us again. If not, he's toast.
Will record levels of early voting help or hurt Trump?
The laws of arithmetic suggest the record number of early votes cast will make it more difficult for Trump to turn things around in the final days. However, it is likely the small number of undecided voters that remain have not yet voted and might still be swayed. Interestingly, there are a handful of states that allow early voters to vote again, if they change their mind, including the key swing states of Michigan and Wisconsin.
What will be the impact of voter suppression strategies?
We know that state-based Republican lawmakers have introduced stricter photo-ID requirements that have made it difficult for less advantaged, mostly Democrat, citizens to enrol. But voter suppression can take a variety of forms. Will Trump's refusal to commit to a peaceful transfer of power demoralise voters? Will Trump's calls for his supporters to keep an eye out for voter fraud intimidate voters? Will Trump's new Supreme Court majority support Republican challenges to early voting? Be sure that restricting the number of Democrat votes being cast and counted is a key part of Trump's strategy.
What about Trump's rallies?
Trump's rallies are designed to motivate his supporters to turn out on election day, but don't assume they are the full story on voter enthusiasm. The most recent polling on enthusiasm suggests voters on both sides are more fired up than they were in 2016, with Democrat voters leading on enthusiasm at similar levels as they did in 2008. And we know what happened then.
Which state results will we know the soonest?
Among the swing states, Florida and North Carolina are the jurisdictions likely to report their full results on election night, with postal votes having to be received by election day and systems set up to process early votes prior to election day. We may also have a good idea about what is happening in Arizona and Georgia.
If it's revealed on election night that Trump has lost one or more of these, it will be difficult for him from there.
Which states will keep us waiting for results?
The key mid-western swing states of Pennsylvania, Wisconsin and Michigan will be receiving and counting ballots for up to two weeks past election day.
With postal votes expected to favour Democrats, take a wait-and-see approach to results on the night. Unless, of course, Trump ends the night behind, in which case, it is hard to see him winning.
The critical state here is Pennsylvania, with most analysts downgrading the overall chances of both candidates if they don't bring this state home. This is why Trump has been camped in this state since the debate, trying to convince voters Biden poses a risk to the state's petroleum industry, and why the Democrats have been focusing so heavily on "backup" states like North Carolina, Florida, Arizona and Georgia.
What are other Republicans saying on the night?
Should Trump lose, the battle will be on for the future of the Republican party between those who have enjoyed Trump's patronage and the traditional conservatives who used to control the party. If this battle breaks out during the count, it is likely that Republicans believe Trump is losing.
Will Trump run again?
Will a defeated Trump declare his candidacy for 2024? Trump's former strategist Steve Bannon thinks so. Either way, Trump is unlikely to go quietly into the night as former presidents have done before him, with continued speculation about him establishing his own news network and commercialising his loyal base of political supporters.
The verdict
While predicting elections can be a fool's errand, I am ready to make a call. In my view, America is thoroughly exhausted, the polling is more accurate this time and the lead Biden has enjoyed all year will be too much for Trump to overcome. If all the votes are counted, this episode of 'the greatest show' will end with Joe Biden becoming the 46th President of the United States.
---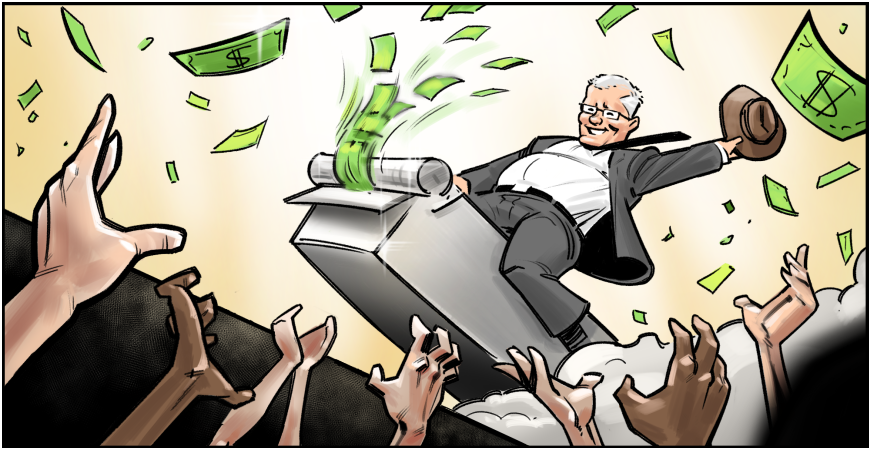 With the Morrison Government projecting Australia's largest ever budget deficits, it is clear that the COVID-19 pandemic has reshaped the economic and political landscape.
Central to this vastly changed environment is the expanded role government is now playing in our lives.
While the most visible aspects to date of this "bigger government" have been in the areas of health restrictions and income support, there are likely to be two more lasting changes.
Each of these present significant opportunities for industry, particularly for businesses who maintain strong relationships with government.
First, a near political consensus has emerged that supports significant deficit and debt to stimulate the economy.
The traditional left has always supported deficit spending in times of recession, but the progressive left's growing support for Modern Monetary Theory (MMT) takes this a step further. At its core, MMT holds that sovereign governments should spend in pursuit of full employment, only slowing down when inflationary pressures emerge. Budget deficits are seen as irrelevant, as sovereign governments, through their central banks, can create (print) as much money as they want.
Indeed, some argue that the Reserve Bank of Australia is already financing deficits and debt in Australia, with the RBA currently purchasing Commonwealth and state treasury bonds on the secondary market with "printed" money.
As we move to the right, support for stimulatory spending from government is linked to historically low interest rates. For decades, central banks have reduced interest rates when they have sought to stimulate the economy. Now, with this lever fully pulled, they have no room to move. And, with the cost of borrowing to governments effectively zero (negative, in some cases), there has never been a more affordable time for governments to borrow and stimulate.
What this consensus means for industry is more infrastructure projects going to market, more funds for industry development and R&D, more programs to stimulate exports, more programs to attract tourists, and so on.
The opportunities for businesses who stay close to government, help shape policy directions and respond to the directions set by government will be immense.
The second set of opportunities lie in the recognition by governments that they cannot do it alone. They need the support of industry to drive economic recovery, and they are keen to unlock the relatively strong balance sheets (compared to the post-GFC period) of corporates to do so.
This means going above and beyond to encourage private sector investment, whether that be through the streamlining of approvals processes, the encouragement of market-led proposals from industry or, dare I say it, picking winners through financial incentives.
There has never been a more prospective time for industry to be monitoring a rapidly changing regulatory environment for opportunities to progress projects that may have stalled. And there has never been a better time for industry to approach government with well-formed ideas to drive economic activity and job creation.
The COVID-19 crisis has been tough, if not devastating, for many businesses and the people they employ. But, with the focus of Australian governments shifting to economic recovery and their pockets deepening, there will be significant opportunities for many within industry, particularly those with strong relationships and a strong understanding of government.
With the role of government in our lives and economy set to remain enlarged for some time to come, now is the time for industry to tool up on their government relations functions, get ahead of the game and make the most of the opportunities the current economic crisis presents.
Given the size of the economic recovery task in front of us, the Morrison Government, and all of our state and territory governments, need us to.
---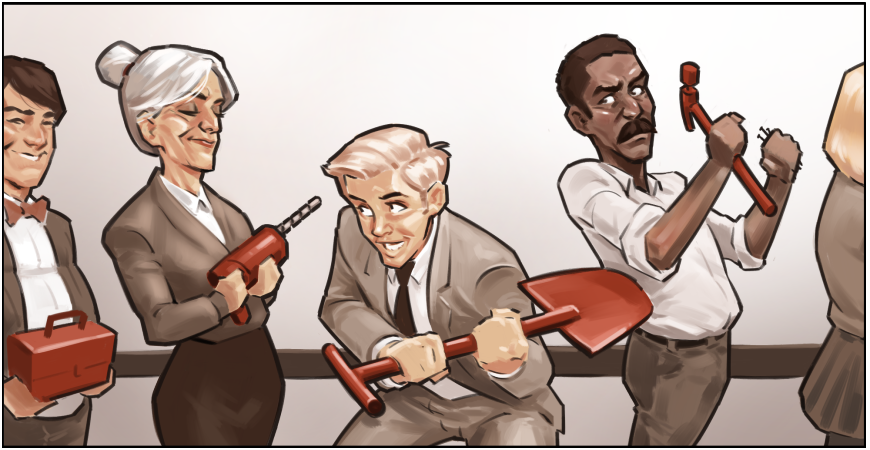 While the priority of the State Government remains to keep West Australians safe during the health crisis, it is clear that more and more resources are being put into planning and executing our economic recovery.
Private sector investment will be critical to driving WA's recovery, particularly as the infrastructure projects and smaller 'shovel-ready' initiatives the government is funding in its first wave of economic recovery reach completion.
Recent reforms to planning and environmental approvals are encouraging private sector proponents, who rightly interpret this as the government seeking to encourage investment and job creation.
Changes made to the State Government's Market-led Proposals (MLP) framework over the past six months are also seen as highly encouraging, having the potential to drive innovation, as well as a second wave of investment and jobs throughout our economic recovery.
But industry believes there are opportunities to make the MLP policy even more effective.
More on that later.
To bring you up to speed, the McGowan Government introduced its MLP policy in March 2019, delivering on an election commitment designed to "create a clear, consistent and transparent process to manage unsolicited proposals from the private sector that fall outside of the normal competitive process".
As the COVID-19 crisis took hold in March 2020, the government announced changes to the policy to align it with the recovery focus areas of health, economic and infrastructure, social, industry and regional WA.
The changes also included the introduction of a first-mover advantage, which would provide a pathway for proponents to retain a right of last refusal in the event that the government determined that a proposal didn't meet the strict IP, ownership or single supplier criteria for exclusive negotiation.
In this event, the government would likely test the market, with the original proponent provided the first-mover advantage of being able to match a more competitive bid or receive a bid premium of between 10 and 20 per cent.
In August, the Premier and Treasurer announced the introduction of problem and opportunity statements, which are designed to "provide focused opportunities for industry to respond with innovative solutions that stimulate the economy and create jobs for Western Australians".
A small number of problem and opportunity statements have been released since, focusing on areas as diverse as carbon farming, prison industries and PPE manufacturing.
The State Government's evolving MLP policy has been welcomed by industry as a significant improvement on the ineffective unsolicited bid process that existed previously.
However, as indicated above, industry sees opportunities for further enhancements.
Two potential changes have been floated, with a view to driving private sector investment and job creation during the COVID recovery period.
In May, an idea was put forward (read here) to relax the requirement for a proponent to demonstrate that its proposal is "unique'" or "not market standard" – a requirement that some proponents struggled with, and one which they were required to meet to gain access to the MLP process and the exclusive negotiation and first-mover pathways it offered.
It was suggested that the uniqueness test be relaxed, so that proponents who could demonstrate that their proposal was in the long-term interest of the WA economy, or could provide a short-term employment benefit, could access the MLP pathways.
More recently, a second, and potentially more contentious, change floated involves the suspension of the requirements to qualify for exclusive negotiation. Advocates argue that it would drive innovation and investment by encourage more IP-protective proponents to engage with government. Critics argue it could deliver sub-optimal outcomes, with fewer projects subject to market testing, and be potentially more difficult to manage from a probity perspective.
It is in the interests of the State Government, industry and the broader WA community for the MLP policy to deliver to its potential. This is why we will likely see ongoing engagement and collaboration between government and industry on how the framework functions, with further changes a real possibility.
In the meantime, proponents will position themselves for success in accessing the MLP pathways by ensuring their proposals meet the priorities of government and the needs of the community, as well as demonstrating that their proposal is unique and developing an effective narrative and evidence base to support these elements.
As with the Global Financial Crisis, the period of economic recovery is likely to be long and bumpy. The potential for Market-led Proposals to generate a second wave of investment and job creation, as the stimulatory capacity of the State Government reaches its limits, cannot be overstated.
---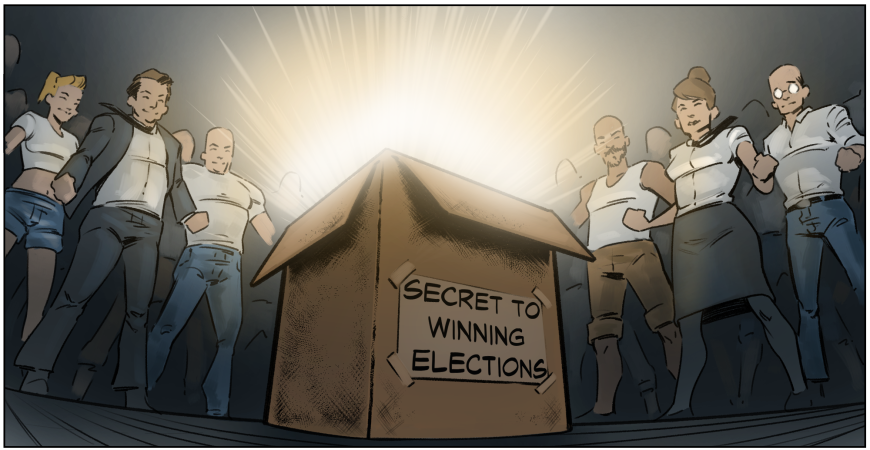 By Daniel Smith

I've got a confession to make that might get me in trouble with some of my peers. The formula for winning elections is actually quite simple.
Not easy, but simple.
Like almost everyone who has turned their hand to providing strategic political advice, I've had my wins and losses.
What I've learned is that nearly every winning election effort has the same qualities, as does almost every election loss.
The key ingredients for winning an election are ensuring that your priorities as a potential government reflect the priorities of the electorate at the time of the election, then effectively communicating those priorities to voters.
Having the same priorities as the electorate at the time of the election involves having an accurate view about what the social, economic and political circumstances will look like on election day, then rigorously engaging with the community and stakeholders about their hopes and fears, as well as the best way of addressing these and the issues that will emerge.
Effective communication involves positioning early for the issues that will matter at the time of the election, then relentlessly building your brand using a range of communication tools, so that your time arrives at the time of the election. When the polls open, you want everyone to understand both what you believe and what you will do, on the issues that matter to them.
So, if it's so simple, why does it go horribly wrong, so often?
For those in opposition, too often we see a complacency built on the adage that "oppositions don't win elections, governments lose them". While there is some truth in the second part of this equation (see below), the first part is nonsense. Whether it was Bob Hawke, John Howard, Kevin Rudd or Tony Abbott, not to mention Richard Court, Geoff Gallop or Mark McGowan, each of these leaders who won government from opposition were energetic and relentless in their pursuit of power, as were the party machines behind them.
Oppositions who think they might slip into government often don't do the work engaging with the electorate, they don't develop policies that reflect the priorities of the community and they don't spend the time building their brand or effectively communicating what they believe and will do.
Governments that lose are almost always characterised as having lost touch with the electorate, leading to them pursuing their own priorities or the causes of special interest groups, instead of the priorities of the community. Their leaders and senior Ministers are often exhausted, lacking the energy to consider how the world is changing, engage broadly with the electorate, develop new ideas or effectively communicate their vision. In some cases, this leaves them so disconnected from voters that they think they are going to win, right up until the moment they are turfed out in a landslide.
For those in the private sector, none of the above should come as any great surprise. Behind almost every successful project is a company that has spent the time engaging with the community about what they want, then carefully developing their project to meet those needs, before circling back to ensure their stakeholders are in no doubt about the merits of their venture. The same is true for companies involved in product development and promotion.
Companies that don't adhere to this process lose the support of the community, or they lose market share. The same is true for our politicians.
The key thing to understanding my two ingredients for political success is recognising that they need to co-exist. The most effective communication strategy can do more harm than good, if it promotes policies and messages that don't reflect the priorities of the community. Similarly, what's the point of having great policies, if the electorate doesn't know about them?
At the top of this piece, I said the formula for winning elections was simple, but not easy. The truth is politics is hard, with the responsibilities of government making it even more draining.
But, for those politicians who maintain their energy and focus, ensuring their priorities reflect the priorities of the electorate at the time of the election, then effectively communicating those priorities to voters, political success is almost certain to follow.
---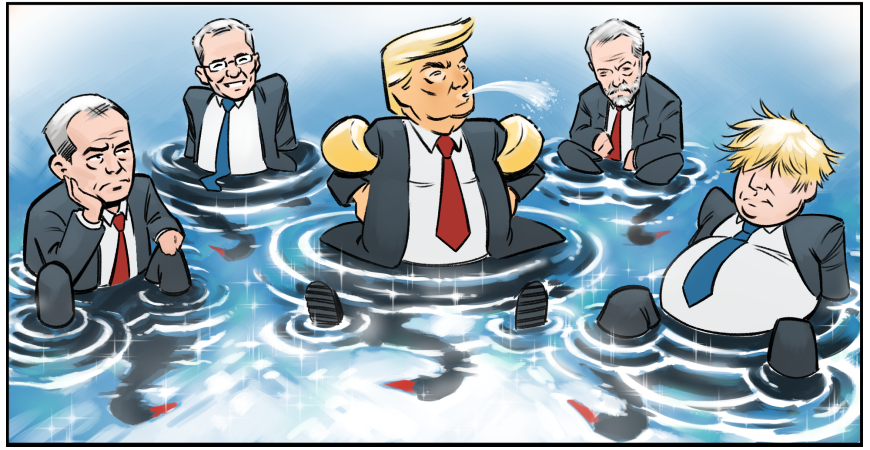 By Daniel Smith
An important point in the maturation of any political strategist or government relations advisor is accepting that election results are very difficult to predict.
As Thomas Harris writes in Imperium, A Novel of Ancient Rome, you can always spot a fool, for he is the one who will tell you he knows who is going to win an election.
What makes elections difficult to predict is that many election outcomes have all the qualities of what have become known as 'Black Swan' events.
In Nassim Nicholas Taleb's masterpiece, The Black Swan, the author outlines three qualities of such highly improbable events. These are that they are unpredictable (few people predicted them), they carry massive impacts, and, after the fact, explanations are concocted that make them appear less random, and more predictable, than they actually were.
Taleb cites examples of positive and negative Black Swan events as the rise of the Internet and the development of the personal computer, World War 1, the dissolution of the Soviet Union and the 9/11 terrorist attacks. The Global Financial Crisis would also fit the bill.
The Black Swan model also fits many of the (free) election results we have seen in recent years. It fits Bill Shorten's almost defeat of Malcolm Turnbull in 2016, the Brexit referendum or Donald Trump's defeat of Hillary Clinton in the same year. It fits Jeremy Corbyn taking Theresa May's majority in the 2017 British election, and possibly Boris Johnson's thumping of Corbyn in 2019 as well. It also fits with Scott Morrison's 'miracle' victory over Shorten in last year's federal election.
In each of these contests, very few people predicted the result, the outcomes had huge domestic and/or geopolitical consequences, and narratives were constructed – by both the winners and the losers – to rationalise the outcomes.
Taleb attributes the human desire to construct narratives about past events as one of the biggest contributors to our blindness to future Black Swan events, election outcomes included. Confirmation bias leads us to develop narratives that fit with our own world view or previous positions, then look for evidence to support the narratives we have developed.
Take Shorten and Corbyn, as examples. The narrative flowing out of their surprisingly strong showings in 2016 and 2017, respectively, was that they had tapped into community angst over inequality and other social injustices. This led to them doubling down on their platforms, putting forward even stronger redistributive policies. Despite high expectations of victory, both were defeated in 2019, in results that many, again, failed to predict. In Shorten's case right up until the results were announced, and for Corbyn until Boris Johnson assumed control of the Conservatives.
But what if the narrative that flowed from Shorten and Corbyn's first attempts at becoming Prime Minister was that their opponents' political ineptitude was the biggest factor in their relative success? Malcolm Turnbull, in having blown his political capital by doing nothing in the months following his elevation to the Liberal leadership, then refusing to run negative campaign ads targeting Shorten. Theresa May, who called an early election for no reason and then promised to take away free milk from British school children in her election manifesto.
While such a narrative wouldn't have confirmed the merits of the policies they had taken to their respective elections, if it had been part of the takeaway for Shorten and Corbyn, perhaps they wouldn't have tried to refight their earlier elections in 2019. Instead, they might have developed new strategies and approaches that reflected the social and economic situations at the time, as well as the strengths and weaknesses of their new opponents, the much more politically adept Scott Morrison and Boris Johnson.
US President Donald Trump is going through a similar journey at present. The narrative flowing from Trump's surprise victory over Clinton in 2016 was that a surge of support in white working-class voters swept Trump to a 'massive' win in the electoral college.
An alternative narrative is that, while Trump lost the popular vote to Clinton, he narrowly eked out a win in the electoral college, with his victory dependent not only on increased support from non-college educated white voters, but also on low turnout from African American voters and college educated Republicans reluctantly voting for him over the even more odious (to them) Clinton.
Of course, this narrative doesn't confirm Trump's view of himself or the world. But, if he had incorporated this thinking into his 2016 takeout, perhaps he would have made more of an effort to expand his supporter base over the past four years, instead of doubling down on the racially divisive approach that he believes won him white working-class support in the first place.
Will Trump be defeated as he seeks re-election in November. Who knows? Right now, the signs don't look good for him, but anything could happen between now and then. That is the nature of Black Swan events.
For those of us interested in the political process, the acceptance of elections as Black Swan events carries a number of implications.
For political strategists, it means being clear headed and objective about the reasons for past successes and failures. It means not taking anything for granted about future elections, fighting them with strategies developed for the conditions and opponents of the day.
For those who engage with government, it means not making assumptions about election outcomes, instead preparing for any possibility by engaging with all sides of politics to develop relationships and a shared understanding of policy.
A mature political strategist or government relations advisor will be highly cautious in predicting election outcomes but will have a lot to say about how you shape outcomes or policies and best position yourself for any version of the future.
---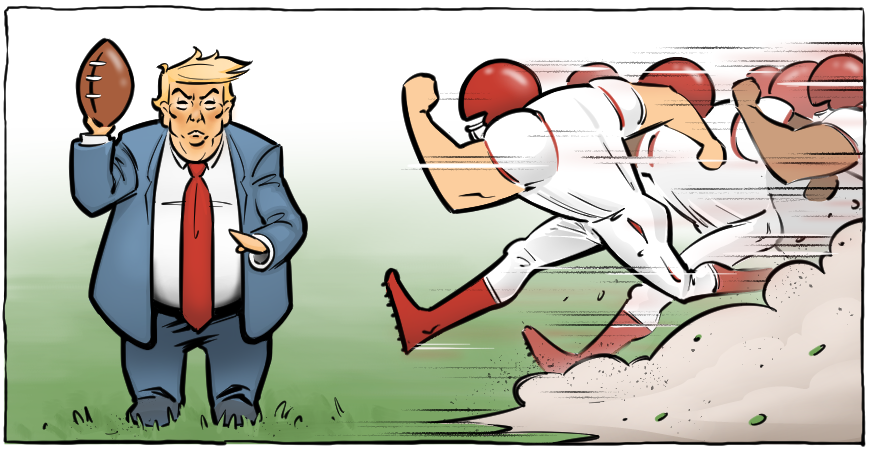 By Daniel Smith

Donald Trump's march across Lafayette Square to hold a Bible for a photo opportunity in front of St John's Episcopal Church was a political 'Hail Mary' pass designed to get him back into the political game.
It was a calculated communication to his white, culturally conservative, working class base that was simultaneously designed to elicit a response from his enraged opponents that pushed his supporters further into his arms in an election year.
To many of us, it looked like madness. How could tear gassing your own citizens to clear the way for a photo opportunity at a time when Americans are suffering from both the health and economic impacts of COVID-19, as well as deep emotional pain at the killing of George Floyd be anything but electoral suicide?
To understand Trump's thinking, we need to understand two realities. First, Trump is in deep political trouble. Second, motivating white, working class people to vote is his most plausible path to another come-from-behind victory.
But, first to Trump's political problems.
The dominant narrative following Trump's surprise victory over Hillary Clinton in the 2016 presidential election was that a surge in support from white non-college educated (working class) voters propelled Trump to victory in former industrial states that had traditionally voted Democrats.
Like most narratives, this represents only part of the story.
Trump's victory also relied on college-educated Republicans, despite serious misgivings, holding their nose and voting for Trump over the even more unpalatable former Secretary of State, as well as African American voters not turning out to support Clinton at the same levels as they had to support Barrack Obama in 2008 and 2012.
According to modelling undertaken by the Centre for American Progress and FiveThirtyEight following the election, Trump wouldn't have won in 2016, if any of these three conditions hadn't been met.
Which is where Trump's re-election problems begin.
In the highest turnout midterm election in more than 100 years, Democrats swept to a majority in the US House of Representatives. Their largest gain in seats came in traditionally Republican suburban districts that not only voted for Trump in 2016, but also voted for Mitt Romney, the Republican candidate for President, in 2012, with this swing delivered by largely college-educated, predominantly female former Republicans.
At the midterms, Trump lost a chunk of what used to be the Republican base, and there has been no evidence yet that he is winning it back.
Trump's problems are magnified by the outrage among African Americans at systemic racism and their ongoing brutalisation at the hands of police, which was made most visible by the killing of George Floyd. The fact that both the health and economic impacts of COVID-19 are disproportionately impacting African American communities will be compounding this rage.
In this environment, the sharp decline in African American turnout experienced in 2016 may well be reversed, particularly if Democrat Joe Biden picks an African American as his running mate, which he is reported to be strongly considering.
As things stand, two of the three foundations of Trump's 2016 victory are wobbly. Which is why Trump is seeking to reinforce the third - his base.
More than any other politician, Trump understands both the angst and potential political power of the white, American working class.
In their well-researched book, Deaths of Despair and the Future of American Capitalism, Anne Case and Angus Deaton describe how Americans without a college degree have few prospects in an economy where globalisation and technology are taking lower-skilled jobs. This has led to social decay and falling life expectancy in white working-class communities, on the back of rapidly increasing levels of suicide, drug overdoses and alcohol related illness – the deaths of despair.
Trump's strategy in 2020 is the same as it was in 2016, being to position affluent, university educated Democrat politicians and journalists as elites who care more about 'minority issues' than they do about American workers, offering himself as the only one who understands the latter's plight and, therefore, as the only one who can reverse it.
With white, non-college educated Americans representing about 40 per cent of the electorate, and historically having the lowest turnout rates at Presidential elections, Trump sees new voters and a path to victory in the family and friends of the people who voted for him in 2016.
Will Trump's strategy be successful? There are signs, on the ground and in the polls, that some of his people aren't buying what he's been trying to sell in recent weeks. But, even if they did, whether this would be enough to offset what promises to be a much higher turnout rate among African Americans and any further drift of college educated Republicans to the Democrats is unknown.
One thing is certain, should Trump be re-elected in November, he will see his base as having delivered it and his Hail Mary law-and-order play as the start of his comeback. Draw your own conclusions about what this would mean for the tone and substance of a second Trump term.
Daniel Smith is executive director and founder of CGM Communications.
---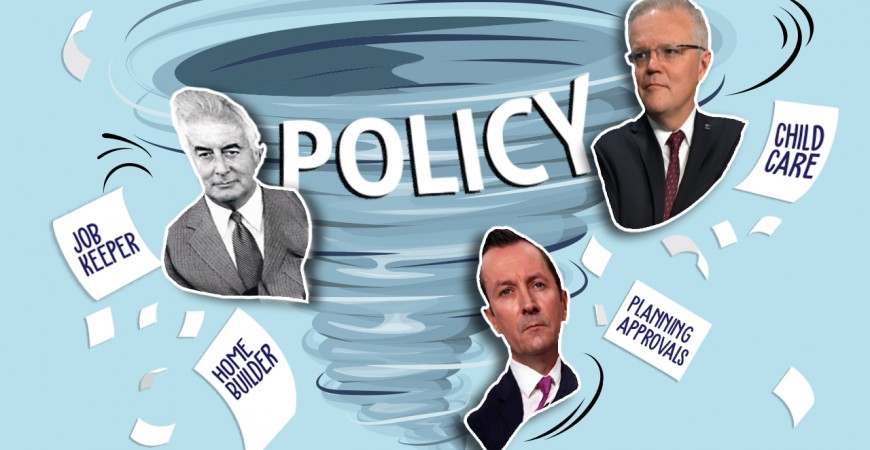 By Daniel Smith
The rapid change in government policy Australia has witnessed in the first half of 2020 hasn't been seen since the early days of the Whitlam Government.
And, with the health, economic and political impacts of COVID-19 still playing out, the current policy whirlwind is set to last for some time to come.
For two weeks following his election win in 1972, Prime Minister Gough Whitlam formed a 'duumvirate' with his Deputy Lance Barnard. Together, they used executive power to implement many of Labor's election commitments, including ending conscription, opening relations with China, removing sales tax from contraceptive pills, appointing an interim schools commission and banning South African sporting teams from Australia.
Whitlam's duumvirate was about fast-tracking the implementation of policies that had been developed over 23 years in opposition and were clearly laid out in Labor's platform.
During the COVID-19 crisis, neither employers nor employees have had this visibility of impending policy change. In responding to a crisis that few foresaw six months ago, we have seen a newly formed national cabinet develop and implement policies to address the health and economic impacts of COVID-19 in real time.
In response to the health crisis, borders have gone up and down, businesses have closed and opened, with the number of people we can associate with, as well as how close we can get to them, changing numerous times.
Changes in economic policy have included the introduction of wage subsidies and an effective living wage, free childcare, fast-tracked regulatory approvals and tighter foreign investment rules.
But we are not done, yet. In front of us lies the rolling back of some, but probably not all, of the COVID-19 emergency measures. New approaches to economic stimulus designed to mitigate the ongoing economic impacts of the crisis are certain, whether they be from the withdrawal of current government measures, or from a drop off in trade and international investment, as our major international partners face their own COVID-19 challenges. Further regulatory reforms designed to unlock private investment and job creation are also highly likely.
The risk of ongoing trade and diplomatic tension on the international stage is also real, with associated policy responses in Australia also possible.
The upside for both employers and employees as we move through this period of rapid change is that both the federal and state governments have been increasingly consultative in their development of COVID-19 period policy, as well as being open and responsive to feedback.
We all know that industry craves policy certainty, but, the reality is, policy certainty won't return for quite some time. In this environment, all stakeholders will need to allocate resources to both shaping and responding to the change that will continue to come.
The Whitlam duumvirate lasted for only two weeks. The current period of rapid policy change could last years.
In this environment, all stakeholders need to keep their relationships with government strong and look for ways they can both shape new policy and assist its refinement in implementation.
---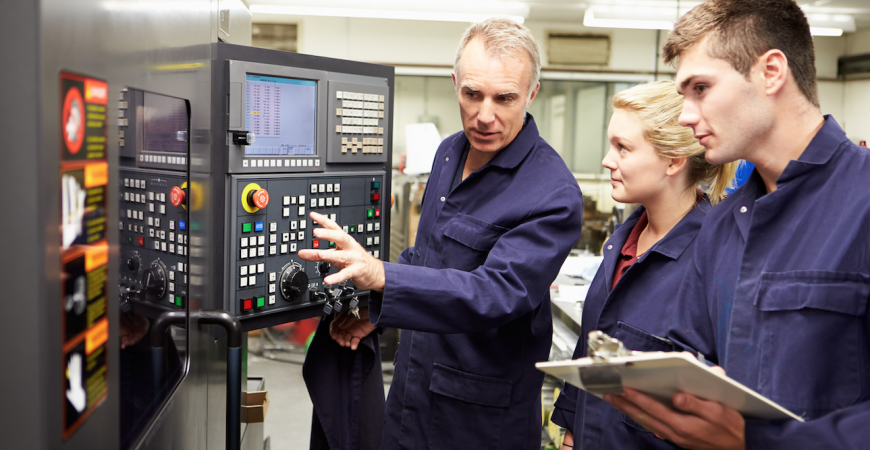 By Daniel Smith

The urgent review of skills, training and workforce development announced by Premier Mark McGowan this week will provide important opportunities for industry to engage about skills needs during the COVID-19 recovery period.

The necessary public health precautions that were put in place to fight the coronavirus severely disrupted many businesses, forcing many to re-think the way they do things, as well as their resulting current and future skills needs. This thinking has been complicated by both international and interstate travel restrictions, which are likely to compel businesses to recruit locally for some time to come.

This review will seek to identify the skills needs of industry, the availability of those skills in Western Australia and, where there are gaps, how we can re-train local workers with these skills as quickly as possible.

Performed well, this review should be a win-win for West Australian businesses and workers. WA businesses will have the skills they need to drive recovery, and local workers will have the skills they need for the jobs that are available.

If this review is to deliver to its potential, it needs industry to engage. Our understanding is that this will not be a typical government review that takes months, if not years, to complete and is delivered with pages of recommendations and, sometimes, a shelf to sit on. The aim is for it to be responsive and nimble, providing advice and recommendations to government for implementation as it goes.

If there are positives to be found in the current crisis, the development of a local workforce that fully meets the current and future skills needs of WA industry is one we would all celebrate.

We encourage industry to engage with this important review.
---