CGM voices by author: Victoria Green
Blogs by Author: Victoria Green. [Show All]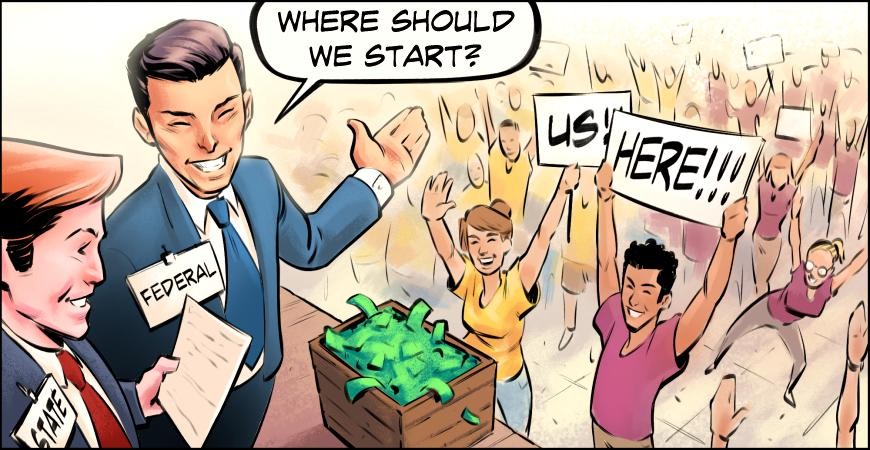 As one of the three spheres of government, local government most closely affects the daily lives of its residents. It is also the most trusted level of government, with a recent Essential Poll finding 42 per cent of respondents trusted their local council. By comparison, 31 per cent said they trusted the State Government, and just 28 per cent had trust in the Federal Government.
In the eyes of many, the traditional role of local government is roads, rates and rubbish. But in reality, it's about much more than that. It's about the services that it provides the community, creating local jobs for local people and facilitating built and natural environments with facilities and spaces that match the aspirations of its residents.
As the representative body, the WA Local Government Association (WALGA) has a vital role in advocating for all local governments. It has done this on several significant issues, such as timeframes for planning reform, tax concessions, and regional issues related to COVID-19. WALGA quite rightly focuses on general topics relevant to its member base and not the specific needs of local councils.
In recent years, some local governments have stepped up their advocacy efforts with both State and Federal Government to deliver on their priorities, particularly for infrastructure funding. But it's an increasingly competitive market as more and more local governments are advocating for the needs of their community.
As minds turn to the upcoming federal budget and fast approaching federal election, there will undoubtedly be a flurry of activity to secure commitments and funding for industry and community interests, as well as local government.
Some will do it well, and some will fail before they've even started. Common mistakes include starting too late, having too big a list of asks, having an incoherent message and not being able to demonstrate stakeholder support.
So, what can local government do to stand the best possible chance of securing funding and commitments from either the State or Federal Governments?
Well, from a State Government point of view, if last year was the year of the 'shovel ready' COVID stimulus project, this year and the next few years will be mostly about WA Labor delivering on its election commitments, particularly in the areas of jobs and economic diversification and health. Homelessness will also be on the radar. Aligning asks of government to the priorities of government in these areas will be a good place to start.
The same will likely be true of the Federal Government, post-election. But in the pre-election period, the best way to get money out of the Liberals in Canberra will be to get the State Labor Government to advocate for your ask. Since the change of government in 2017, the WA Government has proven very effective in securing funding from both the Turnbull and Morrison Governments, leveraging WA's status as a battleground state, in which the federal Liberals need to hold seats in order to retain government. This dynamic will likely be accentuated following Labor's recent landslide state election victory and the continued popularity of Premier Mark McGowan.
Local government has an important role in creating jobs, supporting market-led proposals and welcoming industry. State and Federal governments are still looking for shovel ready projects that deliver on their commitments and are popular with the community, so identifying these opportunities will continue to be necessary. Still, there is much more to it than that.
Arguably, the private sector has been working closely with government to secure funding, advocate on priorities and develop partnerships for decades, whether that's as private companies or through industry representative groups.
Given the experience and achievements of the private sector in advocacy, there are a few things that I believe local government can learn from the private sector when it comes to advocating on behalf of its 'customers' and ultimately securing funding for its priorities.
Here are five private-sector principles to consider:
1. Understand your 'investors'
Investor relations are essential components of private sector organisations that need to understand and work closely with shareholders and investors. What differs in local government is that the potential 'investors' are the State and Federal governments, and rather than profit, their priorities and motivations are very different.
WA Labor has been clear on its priorities. They want to create jobs in WA, diversify the economy through manufacturing and industry hubs, improve the health system, particularly mental health, and tackle homelessness and climate change. As outlined above, the Federal Government is more likely to invest if the State is on board.
Advocacy is all about finding win-win situations. If local government can find a way to support the State or Federal governments to deliver on their commitments while delivering something popular with the community then everyone wins.
2. Know your 'customers'
Successful brands know their customers. They understand their buying habits, their preferences and what's important to them. Local government needs to approach its community in the same way. Understand what's important to them, understand both their current and future needs and get a sense of what matters most.
The City of Mandurah did this incredibly well with its 'Mandurah Matters' community engagement approach. It didn't just run an annual survey asking about facilities and amenity. The City went out and spoke to the community, ran workshops, met community groups, held events, tested ideas and got to know the people it serves. Local governments will give themselves the best chance of success if the things they are asking for reflect the priorities of their community.
Remember, political parties poll all the time. They have a good sense of what the community wants, and so should anyone asking governments for money.
3. Prioritise, prioritise, prioritise
Granted, the private sector is not always the best at prioritisation. Still, when it comes to advocacy, local governments need to develop a laser-like focus on its top one or two priorities and be relentless in the delivery of this message. Presenting laundry lists of asks to government make it difficult for them to choose, and often leads to disappointment if an initiative gets funded that, in hindsight, wasn't that important to the local government that put it forward.
Community and stakeholder engagement with your 'customers' can be used to develop a long list of asks, but it can also be used to set priorities. Keep it sharp, and keep it simple.
4. Get in early
The biggest mistake we see in local government advocacy is leaving things too late. Putting in a budget submission a few weeks before budget day, or launching a public advocacy campaign after the election writs are issued.
Successful advocacy campaigns give themselves time to build a brand, penetrate a message and demonstrate stakeholder support to decision makers.
Leaving things too late makes you look disorganised, with a lack of understanding of how government works. At its worst, it makes you look like you're just going through the motions or doing the campaign for political objectives, rather than genuine outcomes.
5. Government relations is not enough
The best campaigns start early and are research driven, with a clear sense of priorities, purpose and a coherent message.
But they also leverage all the communications tools and channels available to hit decision makers from a range of angles and build a sense of energy and momentum that is hard to resist.
Meetings with government are important. If you don't ask, you won't receive, and government will find it strange to hear things in the media that they haven't already heard in person.
However, the importance of building and demonstrating community support cannot be overstated. As outlined above, this is a crowded market, and governments are being presented with great ideas and urgent problems all the time.
Activating local communities, while building understanding and pressure through the media, are often critical to the success of advocacy campaigns.
You need to get the tone right. But, if you're not in these spaces, you often won't look like you're trying, and other campaigns will get the attention of governments.
Nobody wants to hear about the problems and issues constantly (although there is a time and place for that). However, everyone needs to understand your vision and be brought on that journey.
---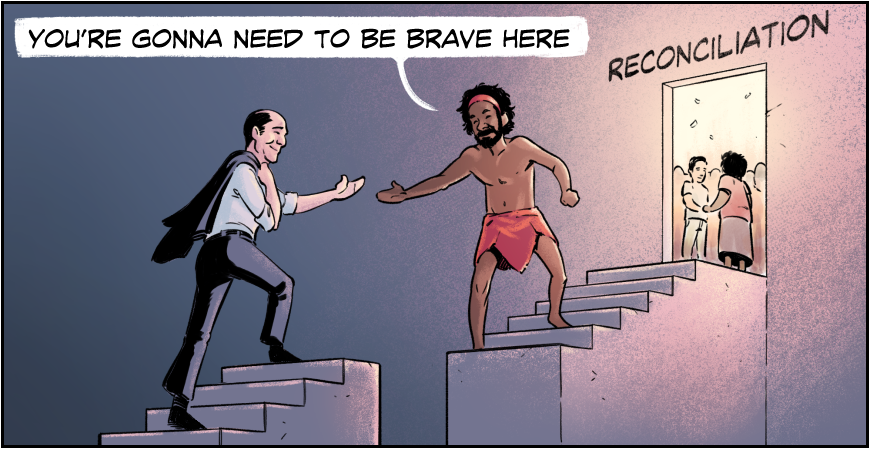 Thirteen years ago, reconciliation in Australia took a huge leap forward with 'the Apology'. In 2016, Reconciliation Australia published its first 'State of the Nation' report, which introduced the five dimensions of reconciliation: race relations, equality and equity, institutional integrity, historical acceptance and unity.
This year's report shows that progress has been steady, support has grown, and more Australians understand the issues faced by Aboriginal and Torres Strait Islanders than in the past. The report highlights that the community is well ahead of the government on critical issues such as constitutional reform and realising equality and equity for First Peoples. The data is showing that actions around truth-telling, systemic racism, and inequality need to be addressed by organisations that are willing to tackle the harder issues. It concludes that Australia is at a tipping point and that now is the time to move from 'safe' to 'brave'.
The question that I asked myself when I read this call to action was what does bravery look like? In the report's foreword, Shelley Res AO states: "Bravery in the face of racism will be our change agent." It goes beyond raising awareness and increasing knowledge, and it could start with something very personal like challenging those around you and having uncomfortable conversations, even at the risk of social isolation.
As a communications agency that works with a number of Aboriginal organisations in Western Australia, CGM is acutely aware of the importance of reconciliation and the responsibility we all have to help create a better future.
For me personally, 'safe' feels like discussing issues with like-minded people, signing up for conferences to find out more, using respectful and inclusive language and ensuring that I learn as much as I can about reconciliation issues. Now these are not necessarily bad, but are they brave? 'Brave' for me would be very personal, it would be challenging myself, friends, family, acquaintances or strangers on biases, beliefs or values and having more uncomfortable conversations.
Reconciliation Action Plans (RAP) are a tool for all organisations to use, no matter where they are on the reconciliation journey, as it provides a structured approach to identifying 'brave' actions and becoming accountable. As CGM embarks on the evolution of our Reconciliation Action Plan this year, we're challenging ourselves to be braver.
There are four types of RAPs that you can develop based on where your organisation is on the reconciliation journey - Reflect, Innovate, Stretch, Elevate. Visit Reconciliation Australia for all the tools and templates you'll need.
---
This is the year where the phrase 'change is the only constant' took on a whole new meaning. Every aspect of our lives has been impacted in some way by COVID-19, and as we embark on our 'new normal' here in Western Australia with the introduction of the controlled border, let's take stock of what this means for community engagement.
Traditionally, community engagement has been very much a physical endeavour. Best practice dictated that community groups, reference groups and committees were brought together around issues to debate, guide and provide feedback.
Honestly, is there anything better than real grassroots community engagement where passionate members of the community come together, the private sector listens, and together a real difference is made in the community? More often than not, this is achieved by sitting in a circle in a community hall, using an abundance of post-it notes and drinking lots of coffee.
At the height of the pandemic, we had to innovate and use methods that avoided social interaction. Far from being a diluted version of best practice, this move to digital platforms opened up a whole world of accessibility, and dare I say it, accountability.
Yes, a Zoom or Teams reference group might not be quite as engaging as a face-to-face meeting. Still, it has enabled people from anywhere, and with commitments that would previously have prevented them from participating to take part and have a say – which at the end of the day is what it's all about. Community members were also provided with access to council meetings and other deliberations that yes, they could have physically attended before, but how many people have the time?
Last week marked seven months with no community transmission in WA, and this weekend our hard border turned into a controlled border with health screening and COVID testing, as well as no quarantine measures in place for interstate travellers from TAS, QLD, SA, ACT and NT. Although, as quickly as the controlled border went live, an outbreak in South Australia meant that quarantine measures were reintroduced, emphasising the uncertainty that our new normal brings.
Everyone will have their view on the controlled border, but as community practitioners, the most important thing we can do is understand the mood of the public and ensure that whatever method we choose to use to engage, we make them feel comfortable so they continue to provide their invaluable feedback. Let's remember that the 'community' is also not a homogenous group. Vulnerable groups such as the elderly may be particularly concerned, and digital methods may not be their preference so putting ourselves in the shoes of the community will continue to be important.
Some things to consider:
Revisit your COVID-Safe plans in light of the new environment;
Things may change rapidly, be prepared to adapt and evolve quickly;
Hybrid engagement may be a good option, providing in-person and digital alternatives; and
Maintain physical distancing where possible, encourage good hygiene (always bring hand sanitizer) and encourage participants to stay home if they're unwell.
Whatever the next phase of this pandemic holds, we need to ensure that communities continue to have their say over decisions that affect their lives. As they say, never waste a crisis, and when it comes to community engagement, we may look back at 2020 and see it as a time when the need for innovation led to a more accessible and highly responsive new normal – which I believe can only be a good thing.
---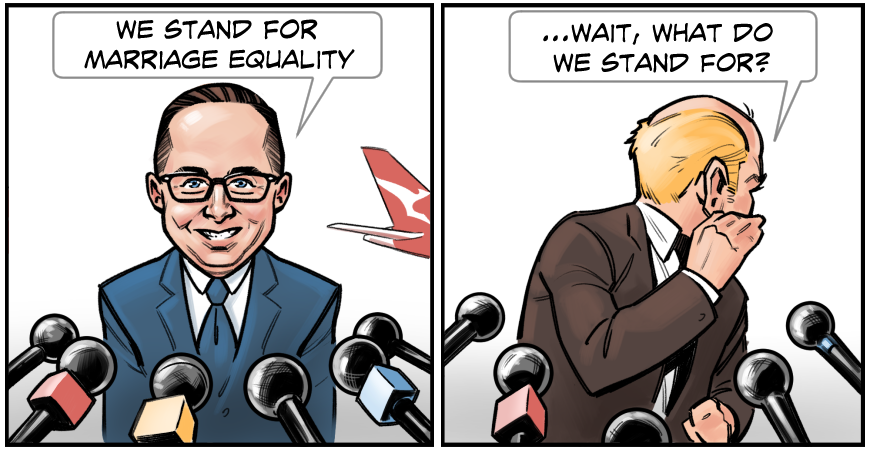 In an era of global economies, more than ever before, companies are intrinsically linked with the people that run them, and CEOs can be their best (or worst) brand ambassadors.
So, why should companies consider increasing the profile of their CEOs? Is the risk worth the reward? Advancing corporate responsibility initiatives, delivering industry and policy reform, progressing business priorities and bolstering the brand are all excellent reasons. In today's world, being a faceless organisation in a community can come at a cost, with reputation and loyalty becoming more difficult to establish and maintain during the ebbs and flows of business. Whereas a local face and identity can add real value to your brand – and your bottom line.
The public wants to see action on things they care about, and they believe it is the role of business to lead from the front on significant social and industry issues. It's not enough to fly under the radar. However, there are risks, and having a position on a societal issue can be polarising if the position taken isn't authentic and overwhelmingly supported by both the business and the Board.
Consumers and employees alike want to know whether they believe in what the CEO stands for. By positively contributing to the overall brand identity, the CEO can help build a more personal relationship that will help them through the good and not so good times.
So, what should leaders, or anyone who wants to raise their profile, consider?
Passion is the most crucial ingredient when it comes to profile raising. Unless a CEO is personally invested in either the issues they are championing, or building their profile – the task is near impossible. Authenticity needs to be at the core of the proposition, and if a leader is not personally invested and just going through the motions then this can be spotted from a mile off, doing more damage than good.
Find a niche and repeat, repeat, repeat. The magic combination of relevance, timeliness and authority will help identify topics and issues that make the most sense to champion. A CEO needs to be able to speak with authority on the topic, but unless it's part of public conversation at that time, it will fall on deaf ears. Alan Joyce is an excellent example of a leader who is intrinsically linked with a household brand.
As a leader in business, he's quite rightly taken a stand on several issues. One issue that he was particularly passionate about was marriage equality. Mr Joyce, who is openly gay, threw his weight and the weight of Qantas behind the Yes campaign. Although Mr Joyce was subject to both positive and negative publicity due to his position on marriage equality, he used his profile effectively to urge other business leaders not to be silent. Passion, relevance, timeliness and authority – the perfect combination.
When building your plan, there are so many opportunities available to you. Host an industry roundtable, petition Government, campaign on social media, bring community members together, sponsor relevant initiatives, use a keynote to make a point or write an op-ed. Ideally, do all of the above. Whatever the method, it's not enough for leaders to only have a position on a topic anymore. Actions speak louder than words and beliefs, and the public want to see concrete examples of actions being taken on issues that matter to them.
Finally, building the brand through personal profile raising doesn't have to be the sole domain of a CEO or managing director. If appropriate, map out topics and opportunities for executive or non-executive directors to help progress business and social priorities. But make sure that messaging and activities are coordinated and complementary at all times.
Mr Joyce summed it up nicely during the marriage equality campaign, "I think corporate Australia, if it's to fix the reputation it has out there, needs to be vocal on social issues. That's what good businesses do. They are part of society, they help promote societal change, and help promote what's good for our people."
---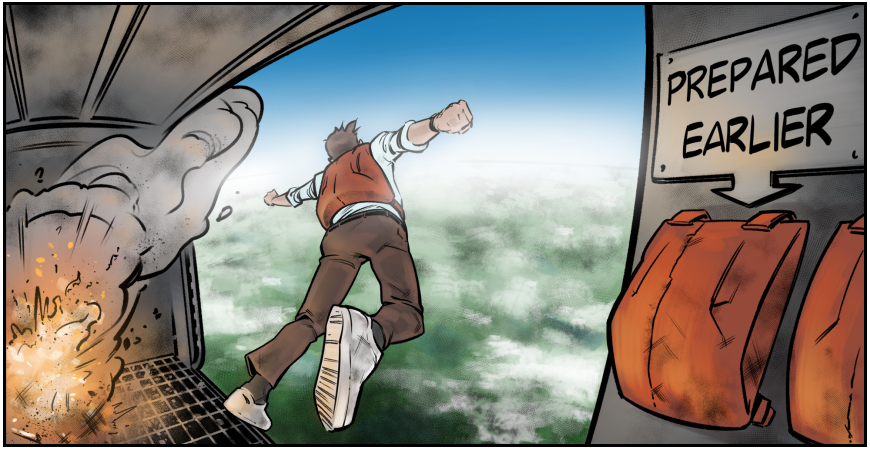 Preparation, preparation, preparation is your best defence when it comes to protecting your reputation during a crisis. But what if you haven't prepared, and you find yourself in a situation which presents intense difficulty, complexity or danger – what should you do?
The first step is to understand when you are in a crisis situation. Not all crisis scenarios are straight-forward, and declaring a crisis is always a judgement call. If uncertainty exists, I tend to err on the side of prudent overreaction.
Heathrow Airport is widely recognised as leader in crisis communication. During my time leading crisis communications at the airport, scenarios from emergency landings, protest and hostage situations to baggage system failures were desk-topped, simulated and documented within an inch of their life. At Heathrow this is totally appropriate, as almost all of these scenarios became reality, and this level of preparation gave everyone the confidence to do a good job under immense pressure – on a regular basis.
But what if you're not a large organisation with a huge number of corporate affairs resources. What should you do then when your reputation is at stake?
If you find yourself in this situation, the best piece of advice I can give you is to plan your approach and messaging around the 3 C's of crisis.
Care and concern
Before you do anything else, as many people would do naturally, acknowledge your concern for those who have been adversely affected by the crisis, and express your empathy and care for their wellbeing – physical or mental.
Control
Empathy is one thing, but the public, stakeholders and your employees want to know what you're doing to get the situation under control now, so share what immediate steps you've taken to try to resolve the crisis situation.
Commitment
After the initial shock or reaction, to help rebuild your reputation, you must show what longer-term commitments you're making to avoid a repeat of the situation.
The State Government are delivering a masterclass in crisis management during the COVID-19 pandemic. In addition to clear, simple messages, delivered regularly, they showed care initially for those who contracted the virus, for families of those who had passed away, for impacted industries, the unemployed and more recently for Victorians. Controls were communicated almost straight away, which were then finessed into a clear staged approach as the situation escalated. Lockdown conditions were explained as more controls were put in place. Commitment is where they have been particularly strong. Hard border - say no more.
At CGM Communications, we have an integrated offering for crisis and all communication needs. We can not only help you prepare, prepare, prepare, but if you find yourself in a situation where you need a team who can work with you to deliver effective crisis communications quickly, then we're here to help.
---